Fresh asparagus that is cooked on the day it is bought is always best, but if that isn't an option then we have all the tips and tricks on how to store asparagus so that it stays as fresh as possible. Reduce food waste and ensure that your asparagus have the best flavour and texture.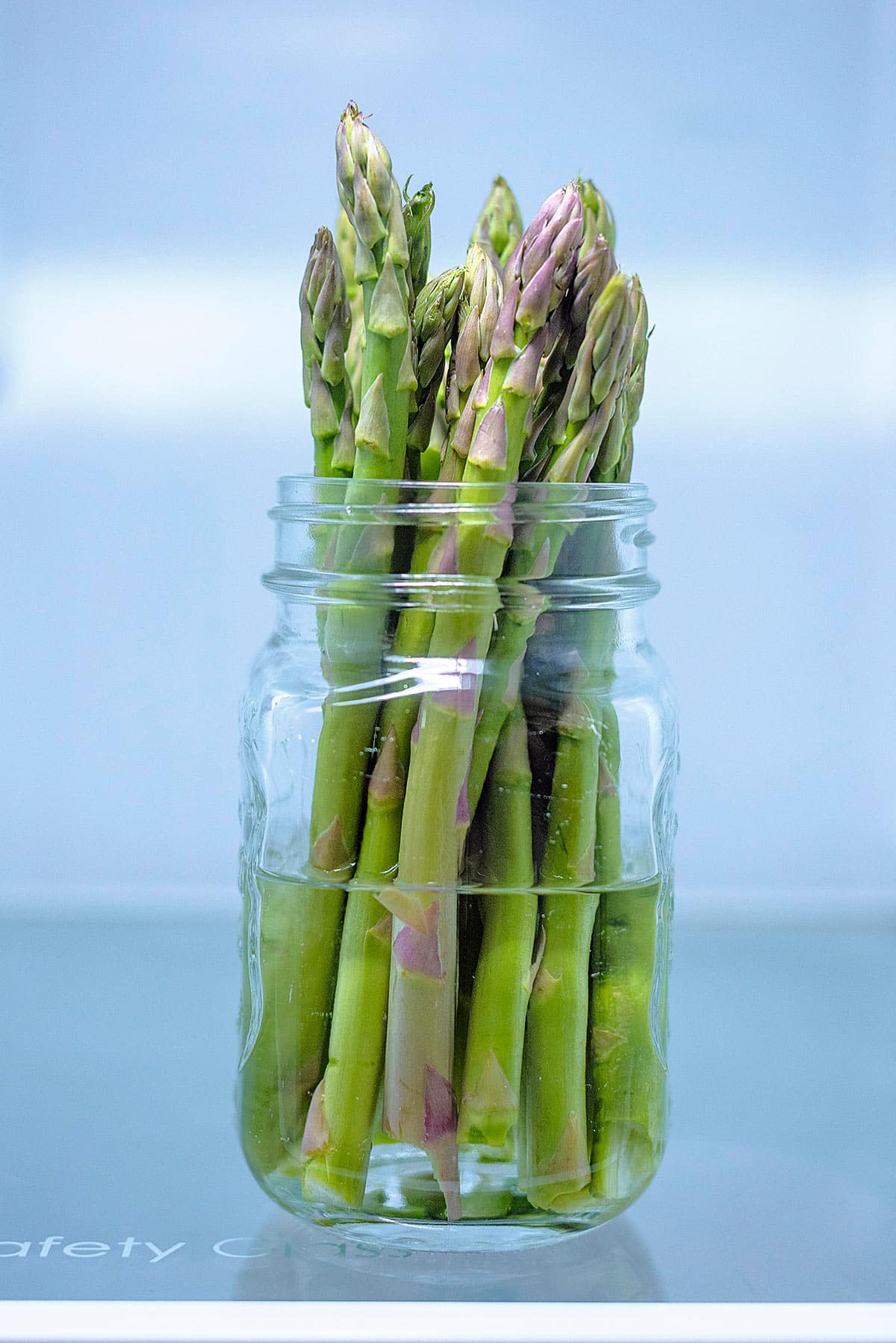 Make the most of asparagus season by learning how to store asparagus correctly, so nothing goes to waste. Stop it from drying out, going limp and losing its flavour, as well as learning how to pick asparagus, how to prepare it and our favourite asparagus recipes. This method will keep asparagus fresh for 5 days, and it is similar to how you would keep flowers fresh.
Jump to:
💪Health benefits of asparagus
A member of the lily family, asparagus is a nutrient dense vegetable and definitely one you should be trying to include in your diet more often. It is high in fibre, vitamins A, C, E and K and packed full of antioxidants and anti-inflammatory properties.
There is evidence that the cultivation of asparagus dates back over 2,000 years to Greece, where they believed in its medicinal properties and that it could be used for curing tooth ache. It has been grown in England since the 16th century.
☀️Asparagus season
The asparagus season here in the UK is very brief, so you really need to make the most of it and make sure that none of it goes to waste. Asparagus can deteriorate quite quickly after it is picked (which is why correct storage is essential), but during peak season the quality of asparagus is amazing.
Between April and June is when asparagus is at its best in the UK. The same goes for the US, however you will see asparagus start to appear in supermarkets around February time, but it will be expensive and flavourless.
🌱How to pick asparagus
Before you even get to storing asparagus and then cooking with it, you want to make sure that you pick the perfect asparagus. Fresh asparagus should be bright green with no signs of shrivelling. The tips might have a hint of purple to them, but you want them to be firm, and not limp.
Make sure the spears aren't wet and mushy - you are looking for them to be closed. Try to pick the thinner asparagus, as the thicker ones can be more woody and overripe.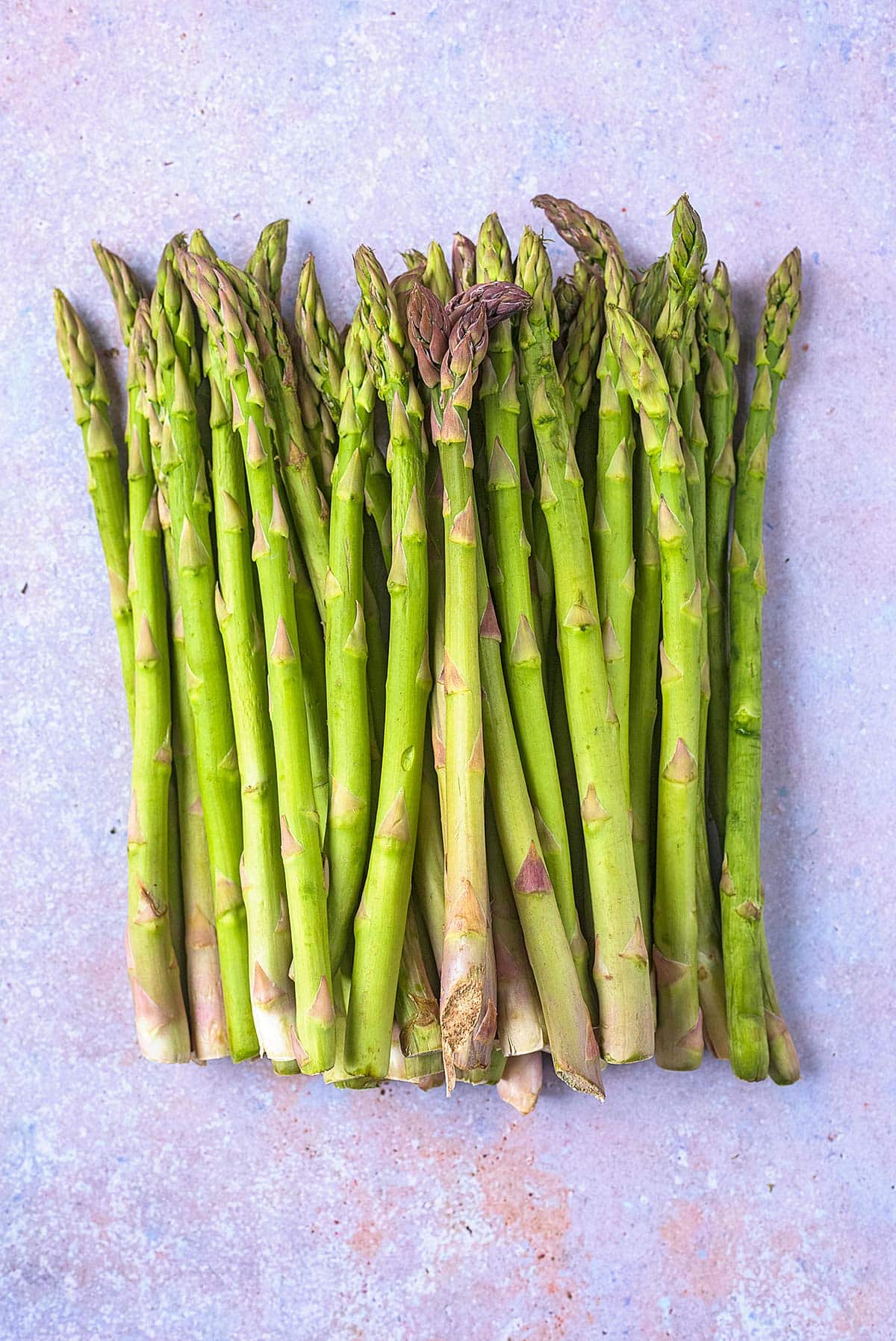 ❄️How to store asparagus
If you want to make the most of asparagus season, when it is such great value, and you want to buy it in bulk, then you need to know how to store it correctly. It isn't complicated and it doesn't require any fancy equipment and it's quick too. Using this method means that the asparagus will keep nice and fresh for 5-7 days without getting mushy.
Firstly, you always want to store asparagus in the fridge - it shouldn't be left out at room temperature. All you have to do is wash the asparagus, snap about an inch off the bottom using the bend and snap method mentioned below, and then place them in a glass jar, cut ends down. Fill the jar with about an inch of fresh water and then place a reusable plastic bag (or cling film/saran wrap) over; the tips
You then need to put the jar at the front of your fridge. Make sure it isn't at the back, as if it's anything like my fridge then it might start to freeze. If the water starts to look a little cloudy, then change it and put it all back in the fridge.
You need to snap the ends off before storing, because this allows the stems to soak up some water in the jar, to keep them fresher for longer.
If you are looking to store cooked asparagus, then it will store in the fridge for 2-3 days. Roast up a big tray of it and then keep in the fridge to add to meals throughout the week. It's a good addition to salads and pasta dishes for easy work lunches. Or even just to snack on.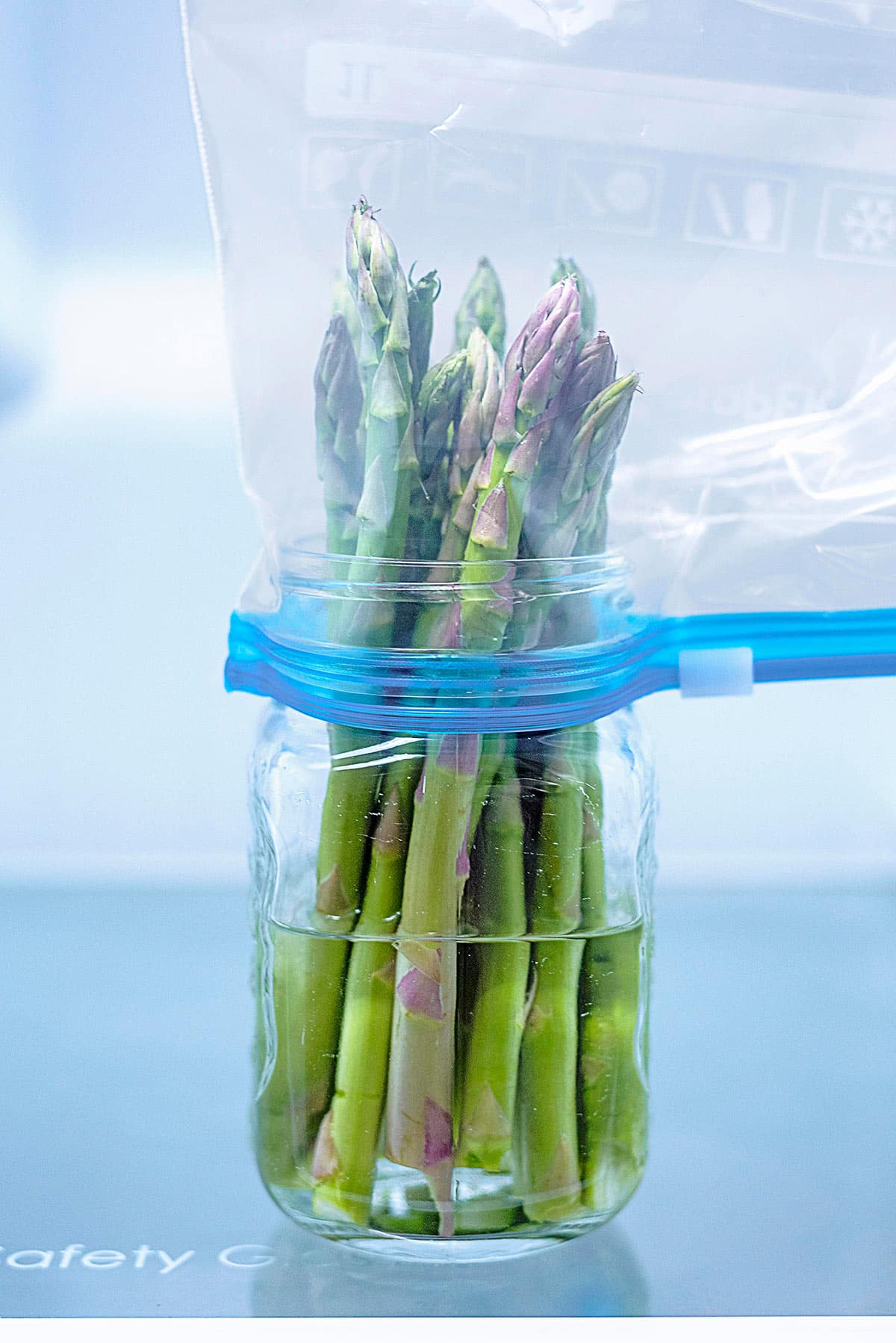 🧊Freezing asparagus
If you want to store your asparagus longer than 7 days, then your best option is to freeze it. We think that fresh asparagus is best, but if it will get wasted otherwise, then freeze it.
Follow the method below for blanching the asparagus and then flash freeze it. Lay the blanched and drained asparagus on to a baking tray in a single layer and then put it in the freezer for 2 hours. You can then transfer them in to freezer bags/containers and they won't stick together.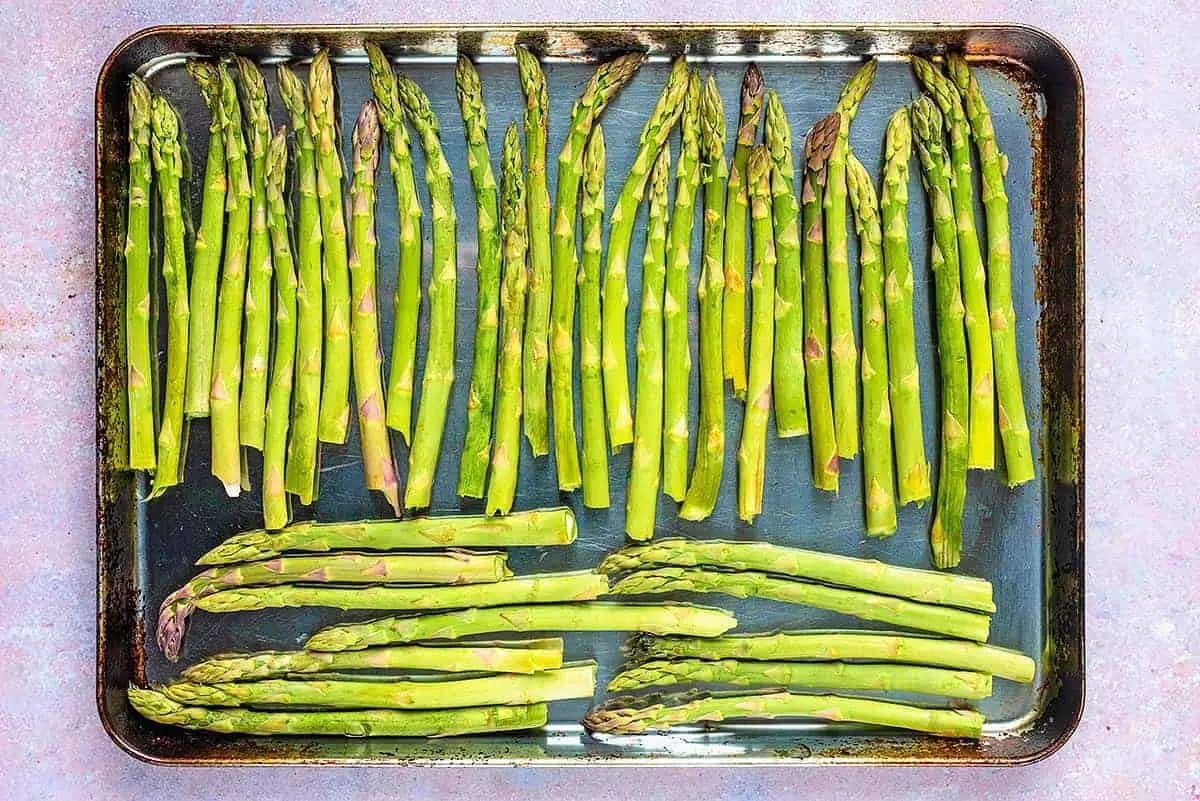 🔪How to prepare asparagus
Use the bend and snap method. Take one stalk of asparagus and then gently bend it to the point of breaking and it will snap off at the point where the woody tough part begins. You can carry on snapping them all, or use that as a guide and use a knife to cut them all at the same point.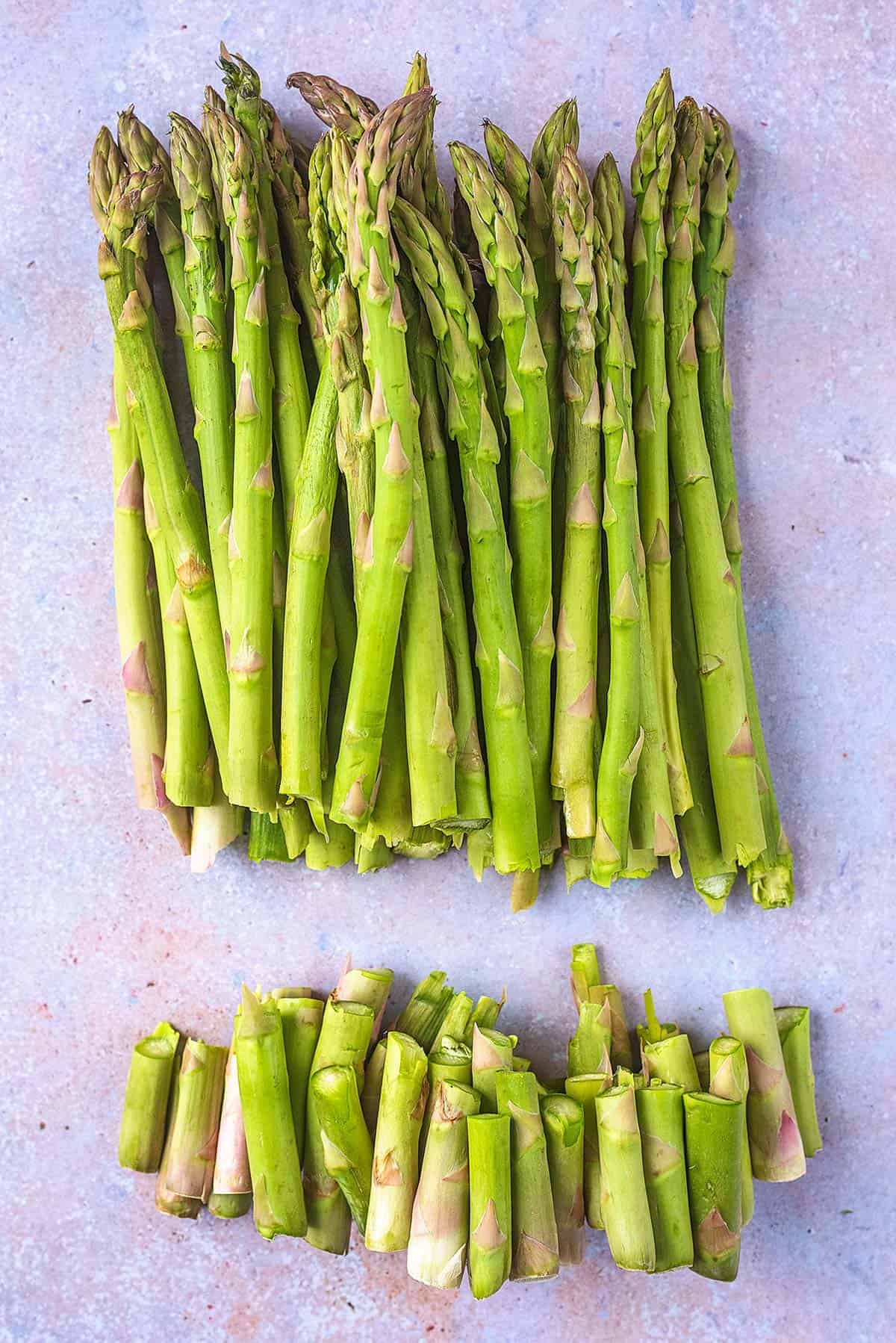 🍳How to cook asparagus
If you are serving asparagus as a side dish, rather than including it in a recipe, then the best way to cook it in our opinion is to roast it. It gets perfectly crispy on the outside, but nice and tender in the middle. It only takes a little over 10 minutes to roast too. Why not try this Roasted Lemon Asparagus recipe?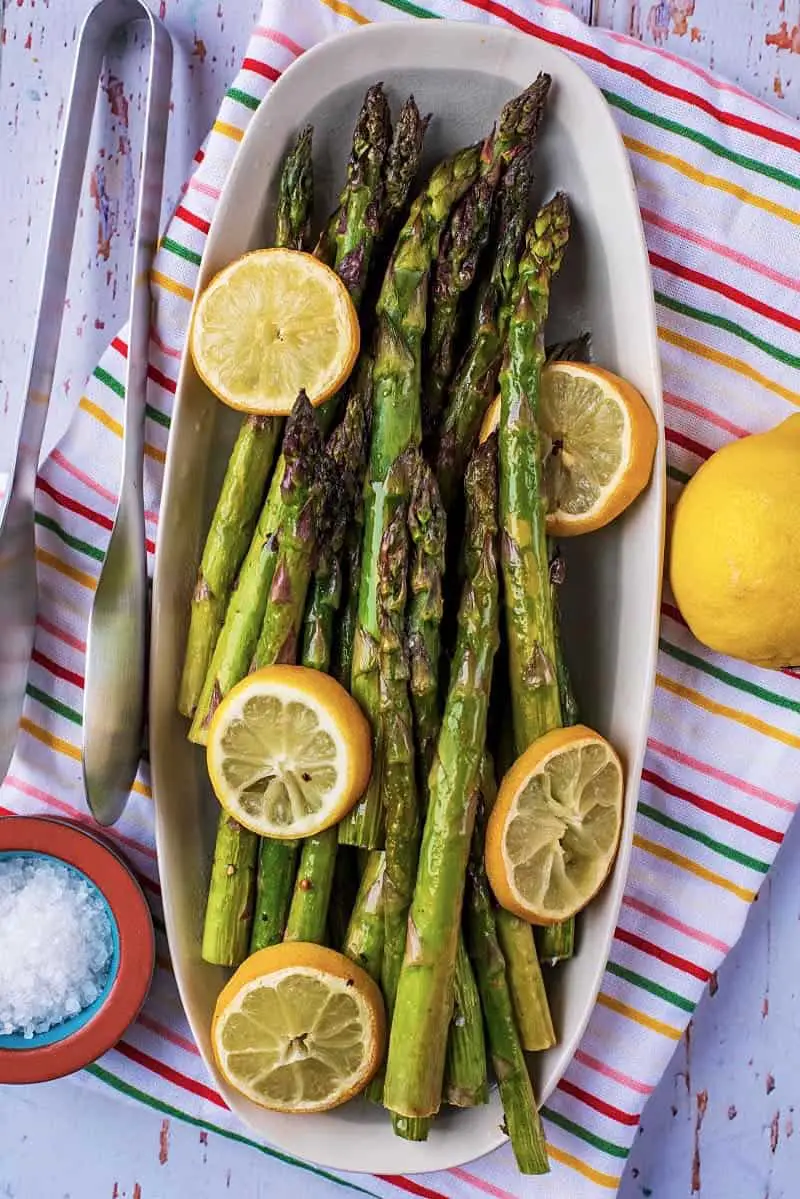 Other ways that asparagus can be cooked include steaming it for 5 minutes, or chopping and frying in a pan with some olive oil for around 7-8 minutes, or until tender. A little fresh basil and garlic goes really well with this.
If you want to keep the asparagus nice and bright green, which is perfect for salads, then the best way to do that is by blanching it. Prepare the asparagus as above and then make an ice bath by putting ice cubes in a large bowl of water. Put the asparagus in to a pan of boiling water and cook for 1 minute, and then using a slotted spoon transfer it to the ice bath. Once cooled, remove the asparagus and dry it with a paper towel.
📋Asparagus recipes
Now you know how to perfectly store asparagus, you are going to need some delicious recipes to us it in and we have plenty for you to try. Delicious in a soup, salad or pasta dish, this green vegetable is very versatile and perfect for giving a spring veggie boost to a meal. Here are some of our favourite recipes that use asparagus: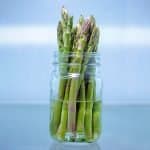 Print
How To Store Asparagus
All the tips for how to store asparagus. Stop it from drying out, going limp and losing its flavour, as well as how to pick asparagus and prepare it.
Materials
1

bunch

Fresh asparagus

Water
Instructions
Wash the asparagus and then snap about an inch off the bottom using the bend and snap method.

Place them in a glass jar, broken ends down. Fill the jar with about an inch of fresh water and then place a reusable plastic bag (or cling film/saran wrap) over the tips. Place the jar towards the front of your fridge as the back can be colder.